About Forging
Forging is manufacturing process where metal is pressed, pounded or squeezed under great pressure into high strength parts known as forgings. The process is normally (but not always) performed hot by preheating the metal to a desired temperature before it is worked. It is important to note that the forging process is entirely different from the casting (or foundry) process, as metal used to make forged parts is never melted and poured (as in the casting process).
Forging Facts
Why use forgings and where are they used?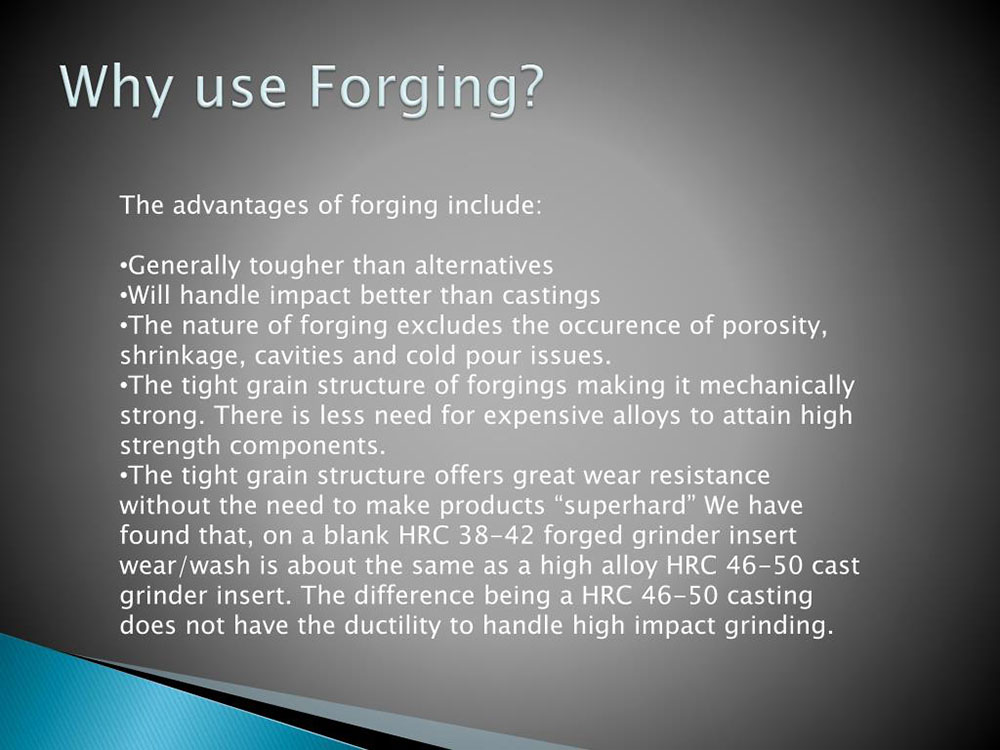 The forging process can create parts that are stronger than those manufactured by any other metalworking process.
This is why forgings are almost always used where reliability and human safety are critical.

But you'll rarely see forgings, as they are normally component parts contained inside assembled items such a airplanes, automobiles, tractors, ships, oil drilling equipment, engines, missiles and all kinds of capital equipment - to name a few.
What metals are forged? Carbon Steel, Stainless Steel, Titanium, etc.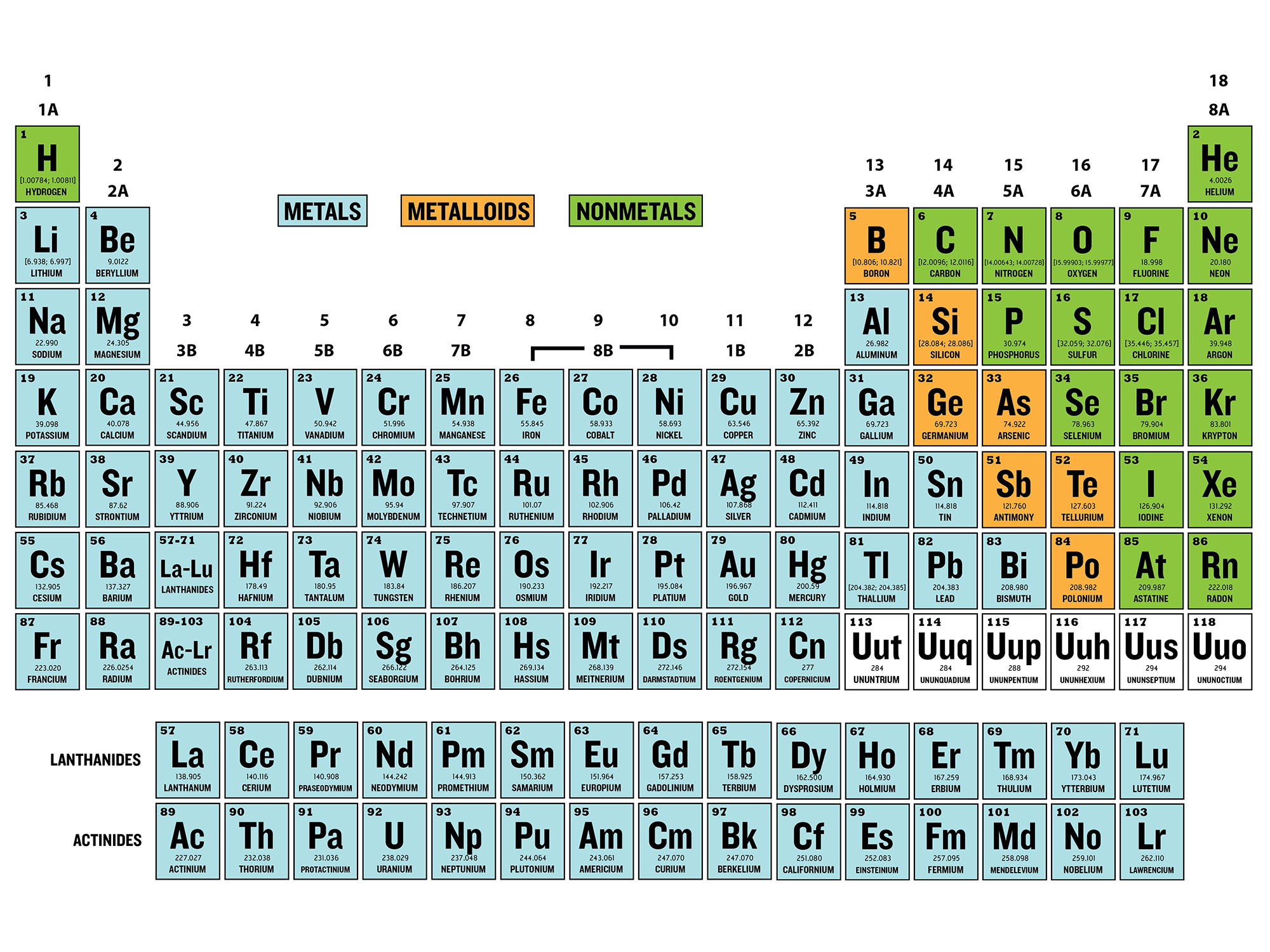 Just about any metal can be forged. However, some of the most common metals include: carbon steel, alloy steel and stainless steel; aluminum; titanium and titanium alloy; brass and copper; high-temperature alloys which contain cobalt, nickel or molybdenum. Each metal has distinct strength or weight characteristics that best apply to specific parts as determined by the customer. 1018/1026/1045/a105 carbon steel. 4130/4140/4145/4330/4340/8620 alloy steel, 8630MOD alloy steel, F22 alloy steel. 17-4/410/420/304/316/316L stainless steel.
What kind of equipment is used to make forgings?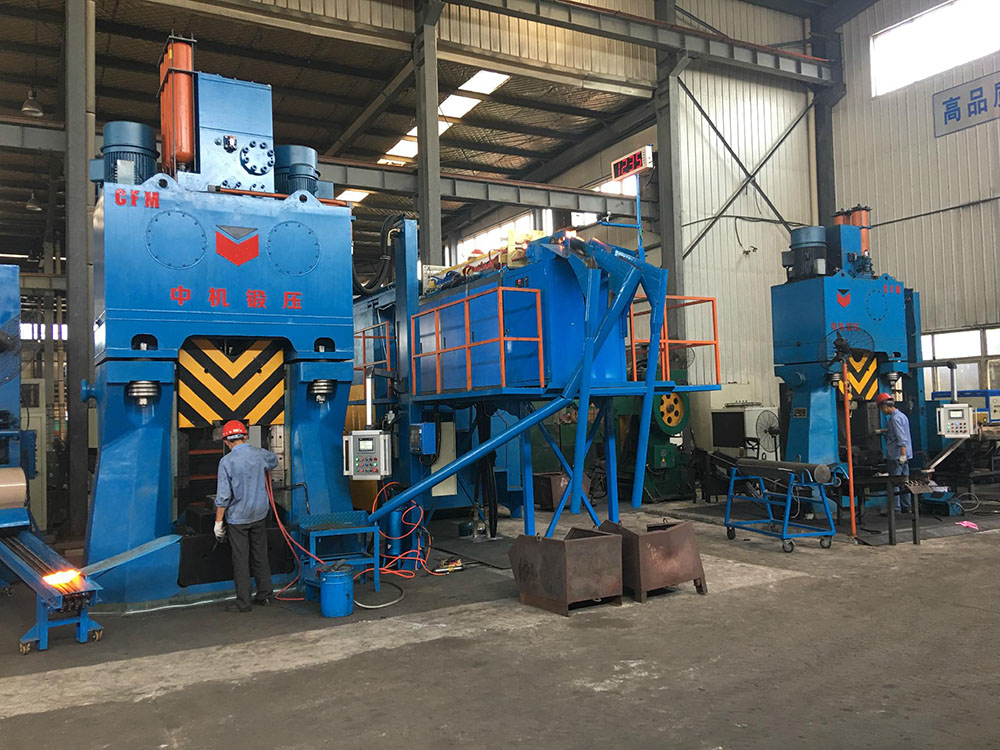 Although the styles and drive systems vary widely, a forging can be produced on any of the following pieces of equipment.
Hammers with a driving force of up to 50,000 pounds, pound the metal into shape with controlled high pressure impact blows.
Presses with a driving force of up to 50,000 tons, squeeze the metal into shape vertically with controlled high pressure.
Upsetters are basically forging presses used horizontally for a forging process known as "upsetting".
Types of Forging
Open Die Forging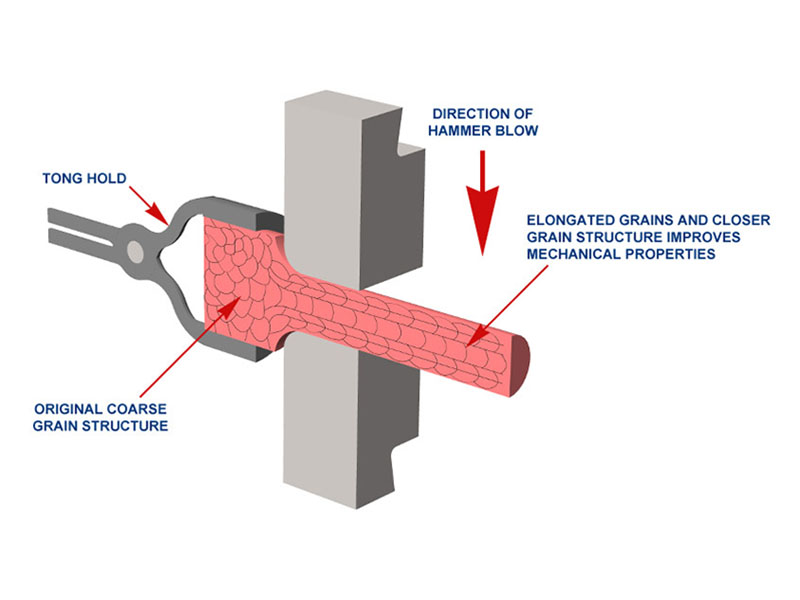 Open die forging is a type of forging in which the metal pieces or workpiece are deformed to the desired shape with the help of dies that do not completely enclose the material. The material produced in the open die forging requires secondary machining operations to get the desired accuracy and tolerances. In this forging process the material is shaped by placing the workpiece on a stationary anvil and then hammering it with the help of a power hammer. Here the die is attached to the hammer or the hammer acts as die.
KNOW MORE
Upset Forging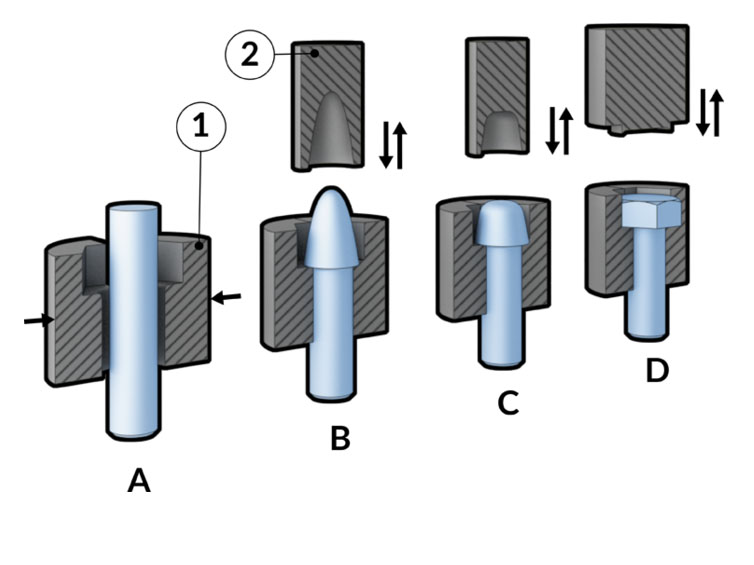 Heading or upset forging is a process by which stock, (typically cylindrical), is upset at its end in order to increase the cross section of the material in this area. This metal forging process may be hot, but is often a cold working operation. Cold working will take advantage of the strengthening of the material in the region worked. Unlike upsetting, as discussed under open die forging, upset forging can employ closed die. For typical industrial applications, heading, is mostly performed horizontally, as shown in the diagrams.
KNOW MORE
Rolled Ring Forging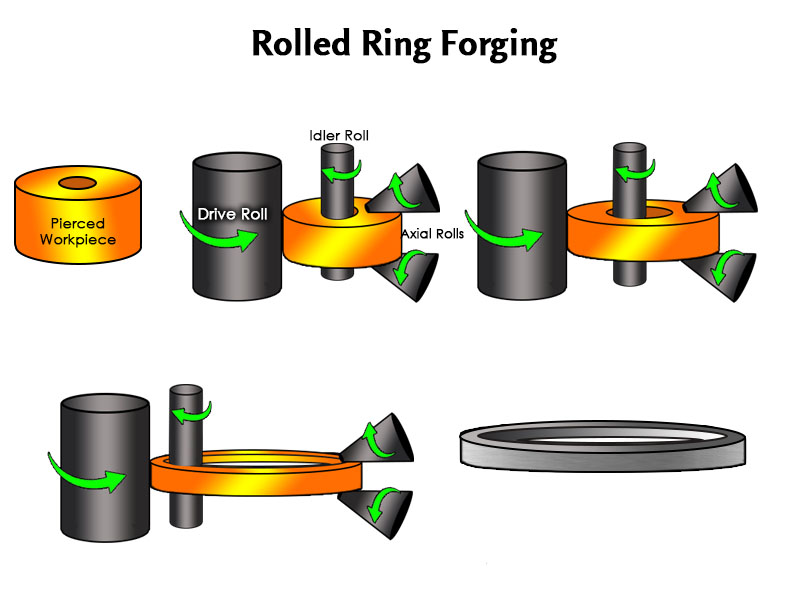 Seamless forged rings are created through a process called ring rolling, which uses a machine called a rolling mill. The rolling mill can generate rings of a range of diameters and weights.The process starts with a circular metal piece that is pierced to form a doughnut-shaped component. After this ring is formed, it's heated to recrystallization temperature. From there it's placed on an idler roll and moves towards a drive roll. This step causes the ring to rotate and increases their diameter and the wall thickness of the rolling rings.
KNOW MORE
Drop Forging Process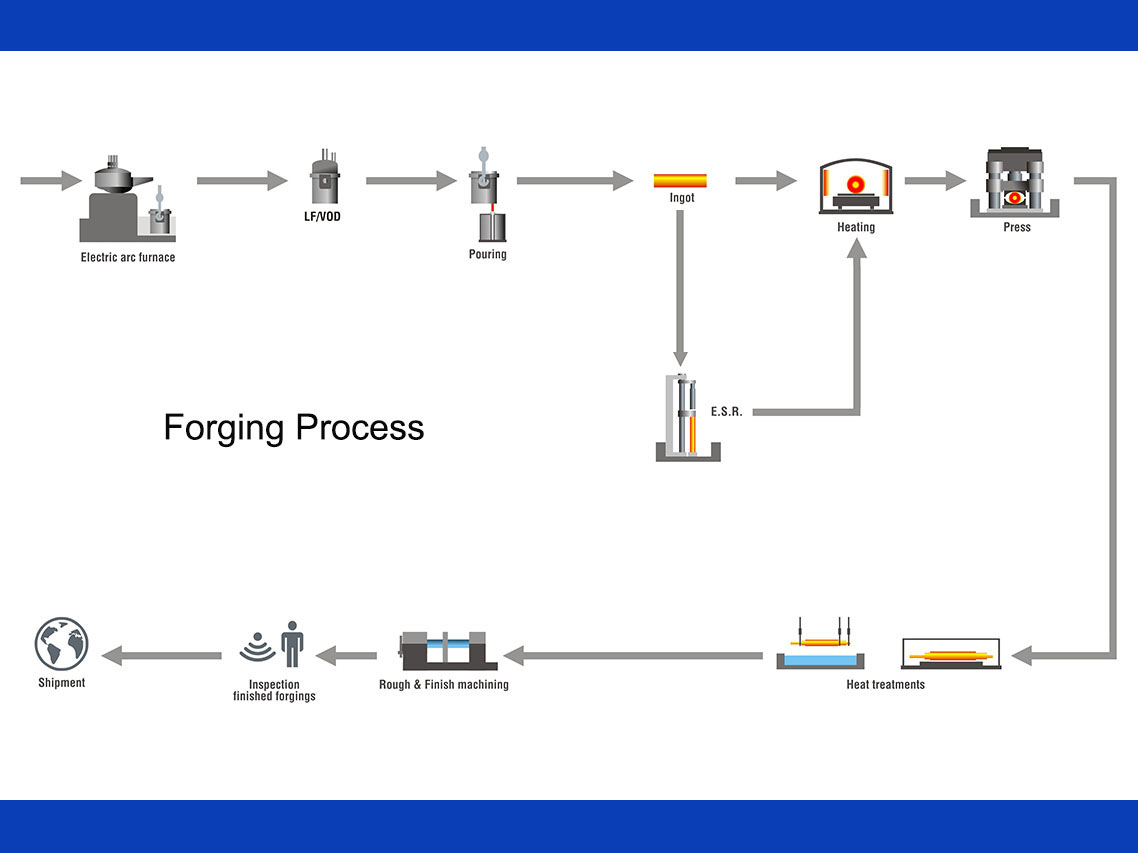 The various steps in drop forging may be as follows:(i) Shear off bar stock to proper length and bring it upto forging temperature in a furnace adjacent to the forging machine.(ii) Perform preliminary hot working operation in order to achieve some properties of metal.(iii) Reduce the cross-sectional area, if any, at some places in the final shape of article and make it flow to some projected portions.(iv) Blocking or semi-finishing operation in which the desired definite form is obtained.
KNOW MORE
Forging Benefits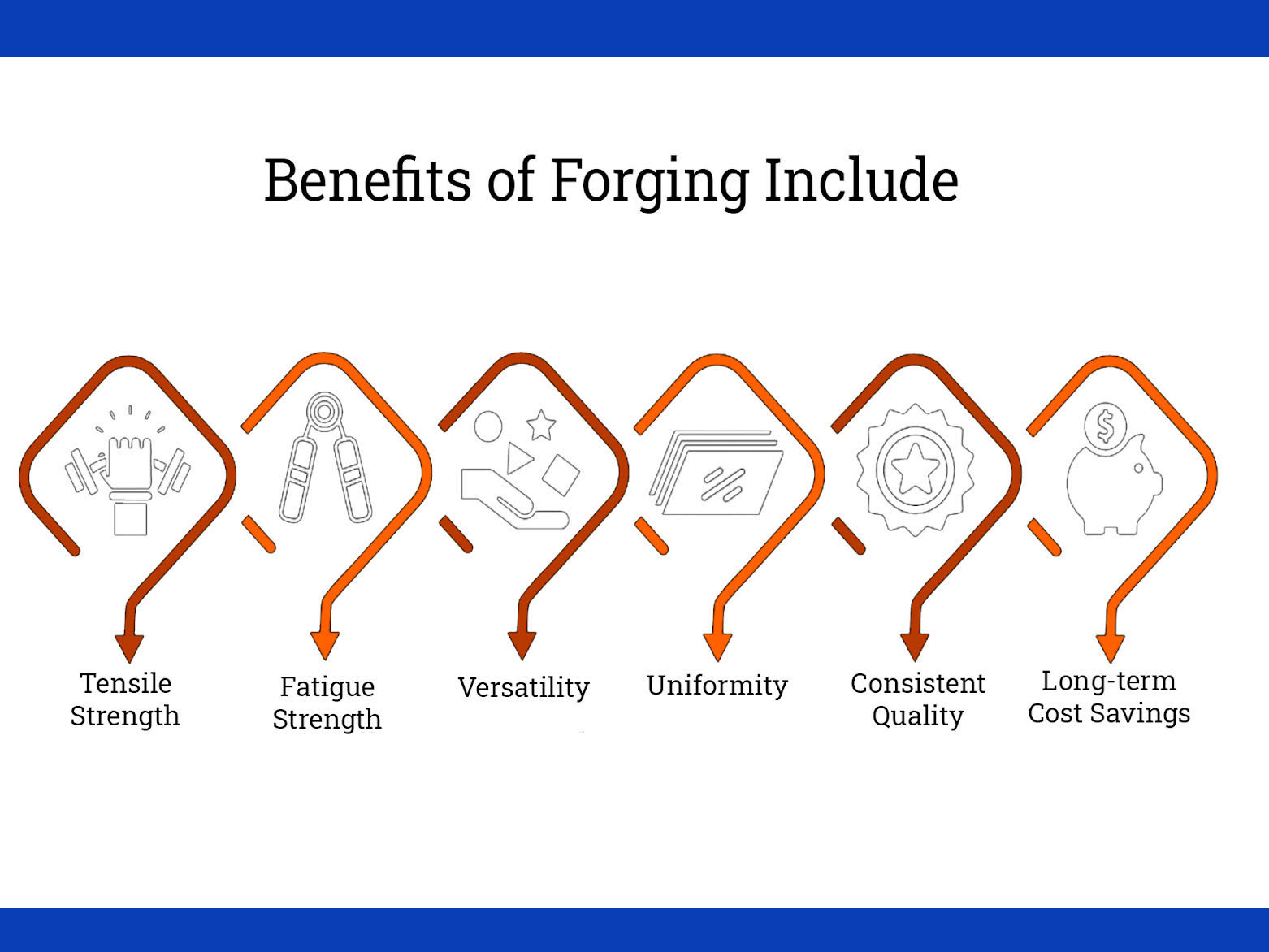 1. It yields stronger components. One of the main reasons why forging is one of the most popular mechanical manufacturing processes with applications in just about all industries, including the aerospace industry, has to do with the fact that forging enhances the mechanical properties of the metal undergoing forging.
2. Forging is possible on a wide range of steels.
3. Significant Money Savings.
4. Variations in shapes and sizes.
5. Great metallurgical properties.
KNOW MORE
Hot Forging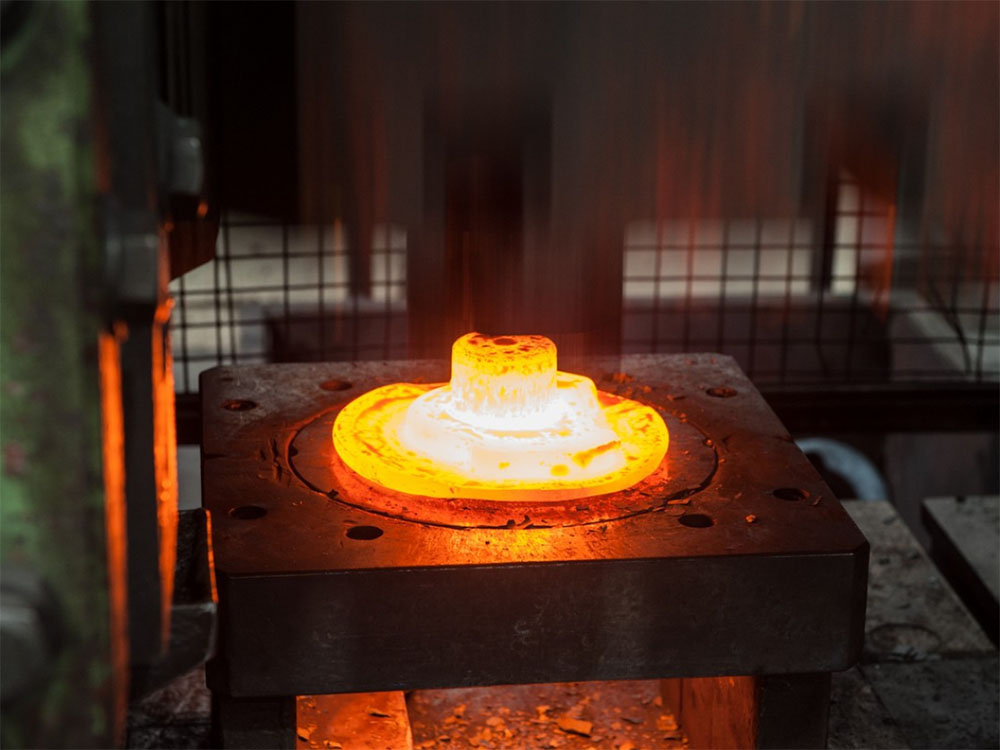 Hot forging is where the metal is heated beyond its normal recrystallization temperature. For most metals, the temperature can be as high as 2000 degrees Celcius.
One of the chief advantages of hot forging is that it decreases the temperature required for the metal forging. In fact, the excess heat generated from the process is used to enhance the strength and ductility of the metal.
Also, products that are created from hot forging tend to have a uniform temperature consistency.
KNOW MORE
Forging is manufacturing process where metal is pressed, pounded or squeezed under great pressure into high strength parts known as forgings.