Forging Materials
Nearly any metal, or combination of metals can be forged. Choosing the right alloy combination is important to meeting your part requirements. Some of the common materials used for forging are carbon steel, alloy steel, microalloy steel, stainless steel, aluminum, and titanium.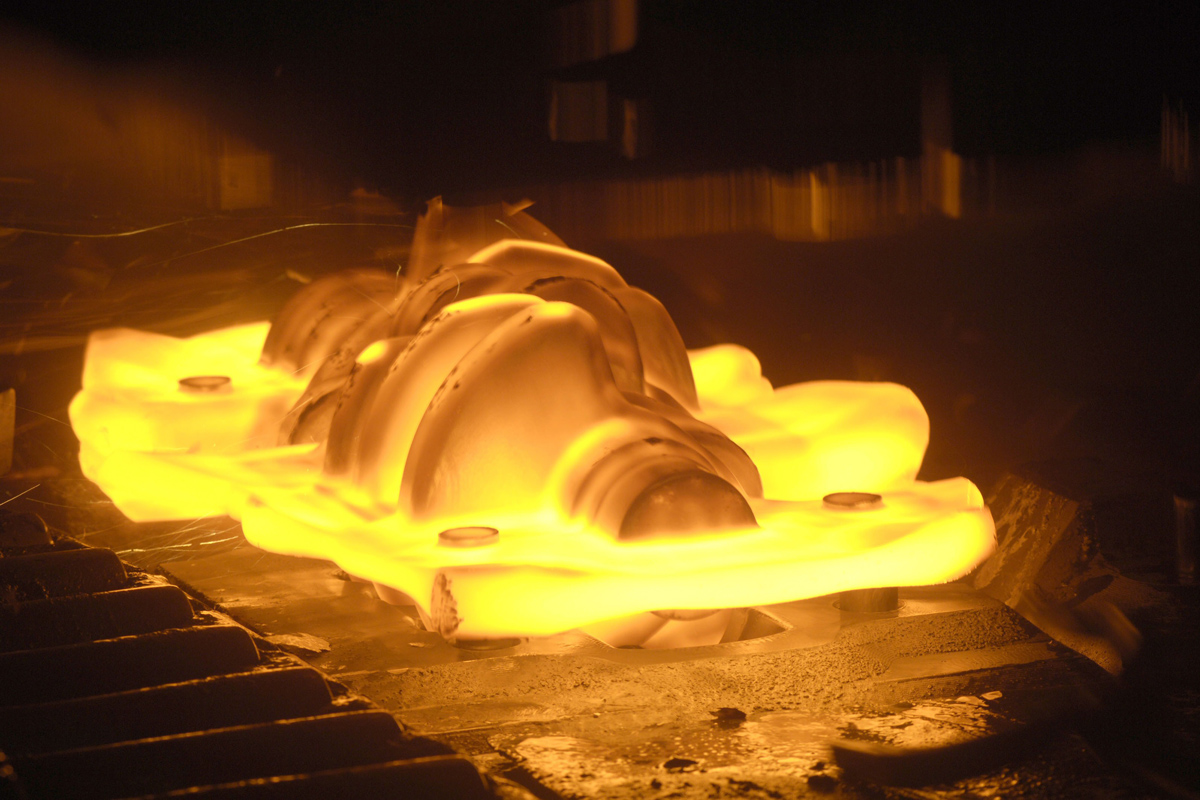 Forging Materials
Nearly any metal, or combination of metals can be forged. Choosing the right alloy combination is important to meeting your part requirements. Some things to consider when determining what your part should be made of includes:
Application Requirements:
Strength - The mechanical property requirements for Yield Strength (Yield), Ultimate Tensile Strength (UTS), Elongation and Reduction of Area ROA) must be calculated A safety factor multiple over model predictions is often be needed to account for shock/momentary loading. The wrought properties provided by forging consistently provide ultimate strength for almost every alloy.
Durability - Impact toughness is another means to provide guidance for shock/momentary loading, especially in-service conditions where such loads may be frequent or continuous. The thermomechanical process of forging drives recrystallization of fine-grained microstructure, metallurgy that provides the highest resistance to fatigue failure and the superior impact toughness of alloys.
Corrosion Resistance - For alloys designed for corrosive environments, forgings provide best results, achieving 100% density of fine-grained microstructure, providing fewer pathways for chemical attack than competing metal working processes.
Heat Resistance - Tough to forge, but providing even tougher end products, alloys containing refractory metals, subject to thermomechanical deformation, achieve metallurgy that survives longer and stronger than other means of production, uniformly sloughing sacrificial surface. Components constructed using other methods can form preferential fissures and weak spots leading to premature and unplanned failures.
Conductivity - Alloys designed for thermal, magnetic, or electrical conductivity, such as copper, aluminum, and silicon/core iron, can gain improved conductivity or magnetic permeability from the thermomechanical processing of forging, due to assurance of full density and specific microstructure. Engineering the forging design to achieve optimum metallurgy assures these materials perform efficiently and effectively.
Process Requirements:
Formability - Metals and metal alloys cover a wide range of formability, from "softer" metals, such as copper or aluminum, that require less force at relatively lower temperatures, to "super alloys" and refractory metals that must be forged at high temperatures with equipment capable of delivering high forces to deform the alloy. Choosing an alloy that will perform function while being highly formable will provide the maximum cost benefit.
Machinability - With consistent metallurgical structure throughout the entire cross section, forgings provide repeatable machining outcomes. Unlike other metal working processes, voids, inclusions, alloy segregation or hard spots that interrupt machining operations and break tools are not found in forged product.
Ductility - Often overlooked as attempts are made to increase yield strength of lesser alloys from other metal working processes, wrought product achieves high yield strength while maintaining ductility. Forged product is famous for withstanding extreme overload, tough but yielding, avoiding the catastrophic failure of sudden fracture.
Tensile Strength - Wrought properties provide the ultimate strength achieved by any common alloy.
Forging Process - The thermomechanical process in which material is deformed in a solid state to achieve bulk shape and metallurgical requirements of a component part. When components are intended for severe service, maximum safety or greatest durability, forging is the process of choice.
Secondary Processes - Along with the benefits in machining versus other processes, forgings also provide superior results in heat treating, plating, and coating. Consistent metallurgy through an entire production run assures heat treat results without variations. Plating and anodizing forged surfaces, both "as forged" and machined, face no inconsistencies due to porosity or contamination from inclusions.
Material Procurement:
Material Cost - In design, the question is, what material will meet the service and safety requirements with cost efficiency? The wrought properties from forging allows design using available alloys and the ability to depend upon the established standards through the entire cross section of the component. Providing consistent, assured properties, forging allows use of the most cost-effective alloys with highest reliability.
Availability - Alloys suitable for forging are available from the warehouse and many more can be ordered in volume from mill supply. It is always best to check on what alloys are readily available before making a final design selection.
Quantity Required - Small volumes mean warehouse availability will be necessary for try-out, first article, or initial production lots. Better pricing, available from mill purchase, can follow if volumes become sufficiently large.
Waste - Every process produces scrap or waste material. Virtually every forging alloy can be recycled for every stage, from initial saw cut swarf and bar ends to end-of-life cycle of the finished product.
FORGING MATERIALS & INVENTORY
Carbon & Alloy Steels | Stainless Steel Forging | Tool Steels | Nickel Forgings / High Temp | Aluminium | Special Grades
Carbon & Alloy Steels
A105
A182F1
A182F11 / A182F12
A182F22
A182F5
A182F9
A182F91
A266CL2 / A266CL4
A350LF2
A694
NIT1435M0D
Stainless Steel Forging
13Cr-8Ni VIM/VAR
15Cr-5Ni VAR
17Cr-4Ni
317 / 317L
321 / 321H
330
347 / 347H
403
405
409
410 VAR
410 (A182F6A)
416
420 VAR
422 / 422ESR / 422VAR
440C / 440C VAR
A182F51 / F60 (2205)
A182F6NM
NITRONIC 50
NITRONIC 60
Tool Steels
A-2
A-10
D-2
D-3
H-13
L-6
Nickel Forgings / High Temp
600
625 ESR
718 / 718T
800H
825
Aluminium
2014 / 2214
2024 / 2224
2219 / 2419
6061
7050
7075 / 7175
Special Grades
1008 VAR (C.E.I)
C-26
Greekascoloy
Titanium-64
Monel 400
K500
HY80
HY100
Materials Used for Forging
Forging is a process by which the metallurgical and mechanical properties of a metal are optimized by using compressive forces like pressing, hammering, or rolling. Forging metals is a time-saving and cost-efficient method of creating products with high ductility and improved resistance to impact and load fatigue. Forging can be used with a variety of metals, including stainless steel, aluminum, titanium, carbon steel, and other metal alloys.
CHISEN® uses a variety of metals and alloys to produce various types of parts. The material used depends on the characteristics that are needed for the intended application.
Carbon Steel
Carbon steel forgings may contain many alloys such as chromium, titanium, nickel, tungsten, zirconium, cobalt, and more, but the carbon content determines the hardness. Forged carbon steel parts are more economical to produce than other forging metals for applications that don't require high operating temperatures or high strength.
Alloy Steel
Different alloys are combined with steel to impart desired qualities in forged alloy steel parts. Alloys, including chromium, manganese, molybdenum, and nickel, increase strength, toughness, and wear resistance. Forging steel with other alloying elements creates components that have high resistance to corrosion and creep as well as improved strength at high temperatures.
Microally Steel
Microalloyed steel gets improved mechanical qualities by adding tiny amounts of alloying components that increase the desirable properties for a specific application while decreasing production costs. Forged microalloyed steel is used extensively in automotive applications, including drivetrain components, crankshafts, and connecting rods. Microalloyed steel is often used with controlled cooling to eliminate the need to hear treat parts as a secondary operation.
Stainless Steel
Stainless steels are iron alloys that contain a minimum of 10.5% chromium. They are known for their exceptional corrosion resistance, durability, formability, recyclability, long lifespan, and ability to withstand extreme temperatures, making it suitable for a diverse range of applications.
Aluminum
Aluminum is popular for use in applications where lightweight parts are needed. Forged aluminum components have a high strength-to-weight ratio, good resistance to stress corrosion cracking, fracture toughness, and tolerance to low temperatures, making them ideal for aerospace and aircraft applications.
Titanium
Titanium alloys are more difficult to forge than others, requiring close control of the forging temperature to achieve optimal mechanical properties. Forged titanium components are preferred for applications where high strength and resistance to corrosion or operating temperatures are required. Parts from forged titanium are also lighter than many other metals and alloys.
Depending upon the choice of material, forged metal parts are appropriate for various applications in multiple sectors. Each of these forging metals provides many benefits when used to create mechanical parts.
Benefits of Forging Carbon, Alloys and Microalloys
There are many advantages of using carbon, alloys, and micro alloys for forging, including:
Benefits of Carbon Steel: Forging carbon steel produces parts that are resistant to abrasion, fatigue, and wear.
Benefits of Forging Alloys: Forging alloys offers benefits such as availability, lower costs, superior mechanical properties, and increased ease of processing.
Benefits of Forging Micro Alloys: Depending upon the alloy as well as forging and cooling temperatures, micro alloys offer advantages such as improved high cycle fatigue resistance and increased strength demonstrated in higher static and dynamic loads.
Forging creates parts that are cost-effective, strong, reliable, and formable in a variety of shapes. The machine forging process, combined with forging materials such as carbon steel, alloys, and microalloyed steel, can impart superior metallurgical properties applicable to a wide range of uses. Cornell Forge is proud to work with all of these materials to suit customer specifications and requirements.
WORLD-CLASS FORGING SERVICES FROM CHISEN®